Located in Columbia Missouri, this fun hike features a cave to explore, water to play in and some amazing scenery on it's boardwalk path.
This fun location is about a 2 hour drive from the Kansas City area and about 2 hours from St. Louis Mo. Making it a great day trip from either spot. It is a part of Rock Bridge Memorial State Park, which offers other great trails, caves and sights to see. You can even take a guided tour through the caves with a park ranger (it was closed to protect the bats when we were there). That's ok though we had so much fun exploring Devil's Ice Box Trail. It got that name because even when it is middle of the summer and hot, the cool water from the caves and spring keep the area a few degrees colder. You can feel the change in temperature as you walk down the stairs. The cave (Connor's Cave) we explored is open on both ends, but flashlights are helpful.
We stopped here as a break on a longer road trip, but wished we had budgeted more time. We brought water shoes and towels, which I would recommend since you will get wet exploring the cave. You also cross the spring while just walking the trail, although there were plenty of stepping stones and you could probably avoid getting too wet. (It also hadn't rained in a few weeks, so the water might not always be that low). Much of the trail is on wood boardwalks with a fair number of stairs.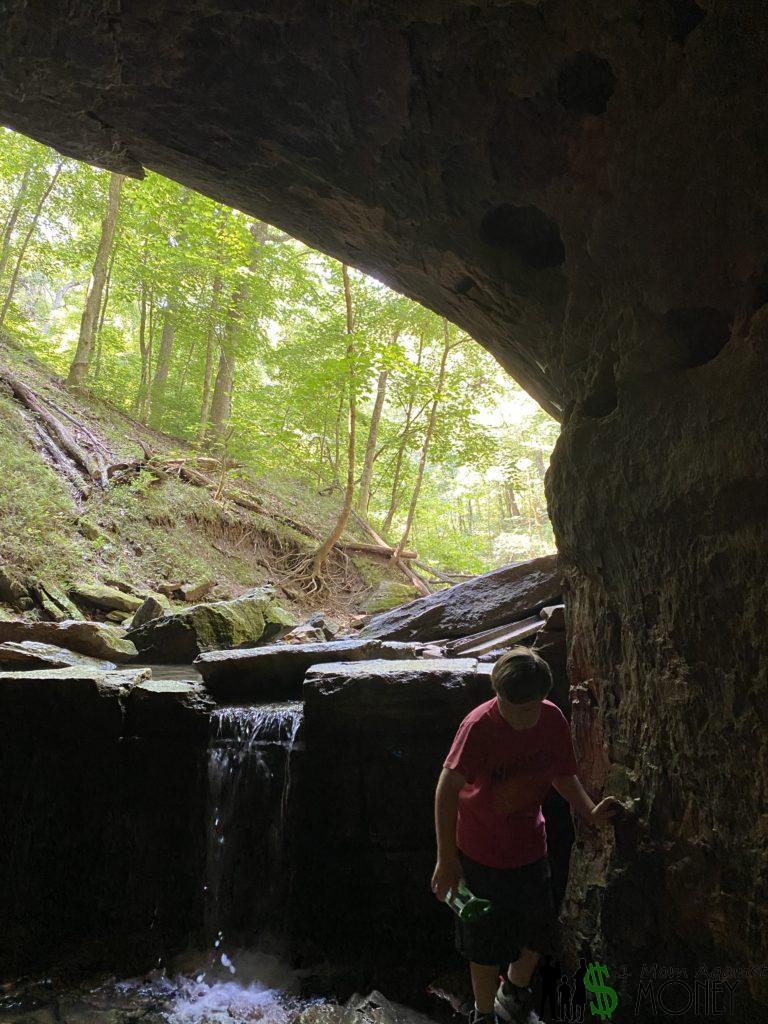 After exploring and walking the trail we had a picnic lunch and headed on our way. But you could spend a whole afternoon there splashing in the water and checking out the other trails.
Devil's Ice Box Trail is only a half mile loop. There are signs which give great information about how the caves were formed and the geology of the area. It was easy to find using google maps.