On Wednesday, we had a ton of rain here, and I was stuck at home with a slightly feverish 2 year old (who oddly felt he needed to eat all day). I figured if I was gonna be in the kitchen anyway feeding my bottomless pit I might as well do some meal prep. I selected a couple kind of time consuming (but favorite) freezer items that needed to be re-stocked:
Creamy Chicken Taquitos 
This one is from Seeded at the Table. I've shared it before. My family loves these, so I keep a big bag of them in the freezer for quick lunches and dinners. They only take 15-20 minutes in the oven. (Click image to be taken to recipe).
Loaded Twice Baked Potatoes
I found this great recipe over on themamasgirls.com. It's rather time consuming, but I do a lot of them at once. They are cheap, filling and the ultimate cold weather comfort food. (click image to go to recipe on themamasgirls.com)
Freezer Meatballs
This is a recipe I picked up a long time ago, so unfortunately I don't remember where it came from. My guess is probably a fun recipe book I found at the library.  The recipe is at the end of the post.
Pizza Crust (bread maker Pizza Dough recipe) 
I use the 2 pound recipe and it makes four personal pizza size crusts.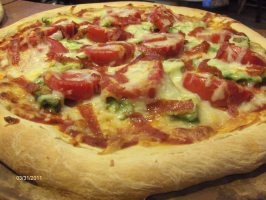 So this is how my time was spent:
11:00-11:30 Get pizza dough in breadmaker, start it and let it run. Clean and prep potatoes, get them in the oven to bake.
11:30-11:45-Make Freezer meatballs, place on pans to freeze and put in freezer. 11:45-12:00 Clean up, rinse dishes
12-12:20-Make Chicken Taquitos Place on pans in freezer to freeze.
12:30-12:40 Get potatoes out and let cool. Put bacon in oven (neat trick I learned somewhere; cover a pan with foil, then lay out bacon and let cook at 400 degrees in oven until done to desired crispiness. So much easier, cleaner and faster than doing it in a skillet on the stove top).
12:40-1 Stopped to eat lunch, feed my kiddo some more and then get him down for his nap.
1:00-1:30 Make the Loaded Baked Potatoes. Place in foil pans cover with foil and then freeze (the recipe says to cook these a second time before freezing. I don't, I do that before we eat them).
1:30-1:45 remove dough from Bread maker, shape into crusts on a pan and freeze.
Around 5:00 that night I removed the meatballs from the pans and put them in a ziploc freezer bag. The same was done with the Taquitos. For the Pizza crust I place a sheet of freezer paper between each crust and then put them in a ziploc freezer bag.
Done! I probably could have done it a little faster had I not been helping out a hungry, clingy 2 year old, but to be honest I was just glad I got something done that day!
Freezer Meatballs
2 pounds ground meat (Turkey, chicken or beef)
1/2 Cup dry bread crumbs
1/8 Cup chopped onion
1/4 Cup milk
1 egg
1 tsp. Parsley Flakes
1 tsp. Salt
1/8 tsp. Pepper
1 Tbsp. Worcestershire Sauce
Combine all ingredients in order given. Shape into balls. Place on pan, cover with plastic wrap. Freeze. Place in ziploc bag.
To Serve: place on pan and cook in 350 degree oven 40-45 minutes or add to boiling water and boil 10-12 minutes.