Themed dinner and movie nights are a longstanding tradition in our home. The Lady and the Tramp dinner was one of my all time favorites to put together because it was so fun to recreate the iconic spaghetti and meatballs dinner.
Our Menu
Bella Notte Spaghetti and Meatballs
Everyone has their favorite sauce and meatballs, so I won't try and give a recipe, but displaying it on a white serving platter really gave it the right look.
Italian Soda Bar
Any time you get to customize something it makes the meal feel super fun and fancy. We had a large pitcher of Soda water. I used oil and vinegar servers for the syrups. The vanilla syrup was Torani's Classic Vanilla syrup and we had a ton of watermelon that needed to be used up so I opted for making Watermelon syrup. Fruit flavored syrups are easy to make and all follow a simple recipe. The base is a sugar syrup with a 2 to 1 ratio (2 cups sugar, 1 cup water) I actually cut it in half because I knew we wouldn't need a ton (1 cup sugar, 1/2 cup water). You then add pureed fruit to taste. I ended up using about 3 cups of watermelon puree. Bring everything to a simmer. You will need to stir constantly to dissolve all that sugar. Then let simmer for about 30 minutes. Strain out the solids with a fine mesh strainer and then pour liquid back into the saucepan to boil. Boil until it is reduced by about a half and then it's done!
I also made some homemade whipped cream to put on top of our Italian soda.
Grissini Breadsticks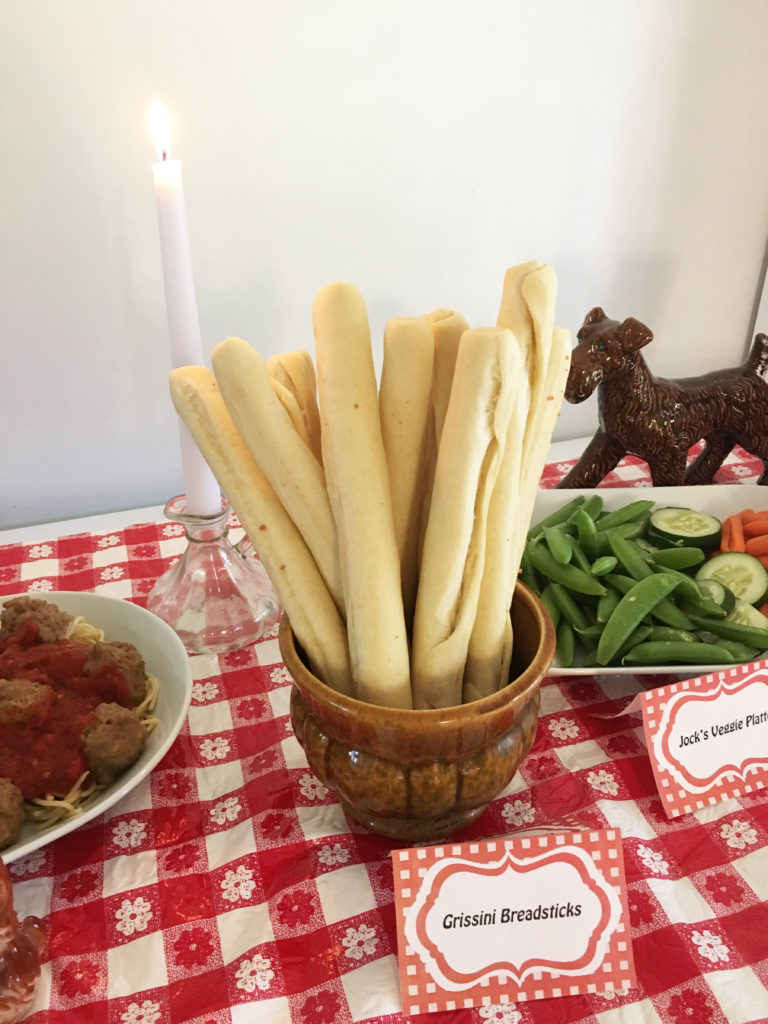 These thin and long breadsticks were in the scene in the movie so I knew I had to try making them. Mine got a little more puffy during rising than I anticipated, but they were really good. I used my beadmaker to do the majority of the work.
Print
Italian Breadsticks (Grissini)
Ingredients
1

Cup

Water

+2 Tbsp.

2

Tbsp

Olive Oil

3

Tbsp

Grated Parmesan Cheese

2

Tbsp

Sugar

1 1/2

Tsp.

Salt

1

Tbsp

Melted Butter

1/4

Tsp

Dried Basil

3

Cups

Bread Flour

2

Tsp

Active Dry Yeast
Instructions
Add ingredients to breadmaker in order listed

Preheat oven to 400 degrees

After breadmaker is complete, place on a floured surface. Divide dough into 20 equal pieces.

Roll into long thin breadstick.

Place the breadsticks on a lightly oiled baking sheet and bake at 400° F./205° C. for 15 to 20 minutes until golden brown.
Veggie Platter, Dog Biscuits and Puppy Chow
We rounded out our meal with a veggie platter and dip. And of course we needed dog biscuits (really Scooby Doo Graham Cracker Snacks)
Finally we had puppy chow popcorn. We used the same recipe for puppy chow but put it over popcorn. It was our dessert/snack during the movie.
Decorations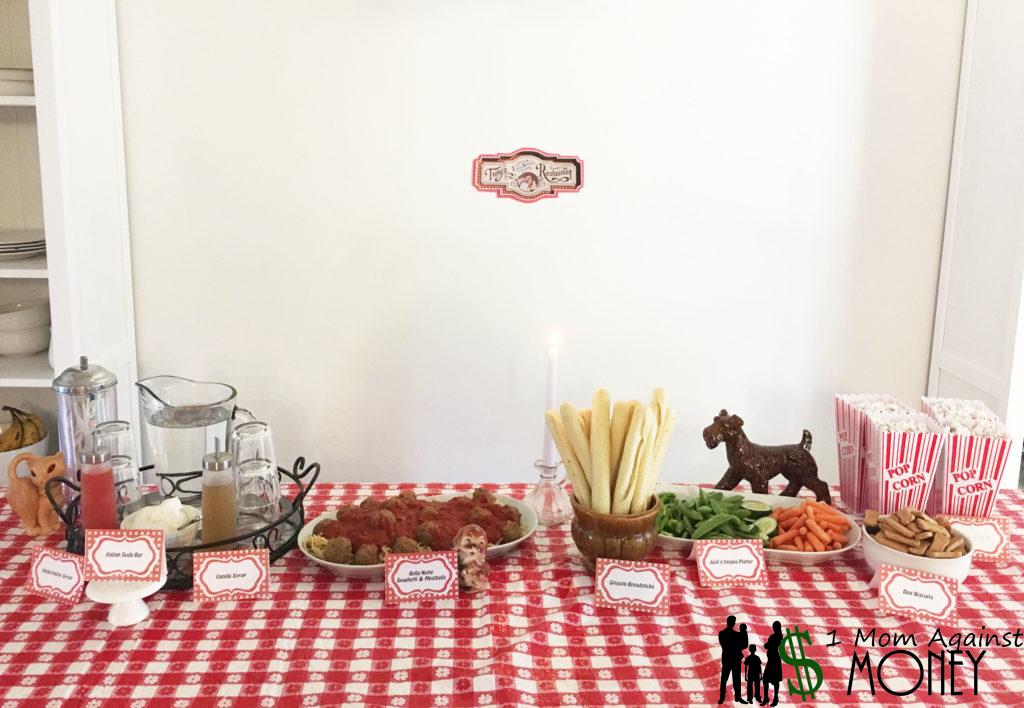 The decorations were super simple for this movie night. A red checkered table cloth and a vase to hold a candle. I gathered up some dog and cat figurines from around the house, but stuffed animals would also work. I used a brown ceramic vase to hold the breadsticks and printed off a sign of that said Tony's Restaurant. I strung up some lights for a little more ambiance lighting.
Last I made some fun labels for the food. You can download these labels for free below.