Crazy hair day is a favorite school activity. I always struggled to find crazy hair day ideas for boys though, so I am sharing some of the ideas I've gathered over the years! Many of these have tutorials, some are just the idea to use as a starting point for your own creativity. Today we will focus on crazy hair day ideas for boys using lego. Lego has so many options that you can really tailor it to your child's preferences. Let's get crazy!
Lego Surfer Riding the Hair Wave
Check out the How To over at Engineered Mama:
Legos are a classic that are always cool, so incorporating them into a crazy hair day style is the best idea ever!
Personalize Your Crazy Hair Day Ideas
Lego offers so many specialty sets. Most kids have one that features a favorite character, video game, animal or other theme. Use them to create a crazy hair day style that matches your child perfectly, like this Star Wars themed crazy hair day creation.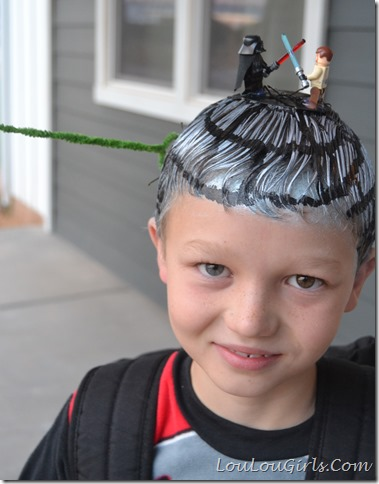 Legos and Star Wars! The perfect combo! Check out the How To over at LouLouGirls.com
Just a Little Trim!
I couldn't find the original creator of this idea, but it was pinned by Nicole over on Pinterest. I think this idea is so funny, and clever. A Lego lawn mowing man, trying to keep that crazy hair in check.
Everything Is Awesome!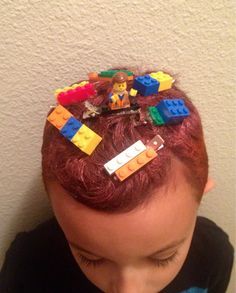 Another great idea without a link to follow from Pinterest. I love the reference to the Lego movie in this crazy hair day style.
Jaws Crazy Hair Day Idea
Ba Dum, Ba Dum Lookout! I love the lego shark and the cool hair "waves". There is a quick how to in the comments section on Pinterest.