Shepherd's Pie is an ideal freezer meal for when I am teaching piano lessons, because I can put it in the oven and let it cook without much prep.
We will be using the baked potatoes from Day 8 and 2 pounds of cooked and frozen ground beef or turkey from Day 3. I break up the frozen ground meat in the bag it was stored in and then thaw it in a bowl in the microwave enough that I can easily layer it.
Print
Shepherd's Pie
Ingredients
4

Large

Baked Potatoes

1

pound

Cooked Ground Beef or Turkey

1

Cups

Shredded Cheese

1

Cups

Beef gravy

1/2

Can

Evaporated Milk

2

tbsp

Butter
Instructions
Mash warm baked potatoes with the evaporated milk and butter

Line a casserole dish with foil or spray with cooking spray

Layer ground beef, then gravy, followed by the potatoes and cheese.

Bake at 350 degrees until warmed through and cheese is melted.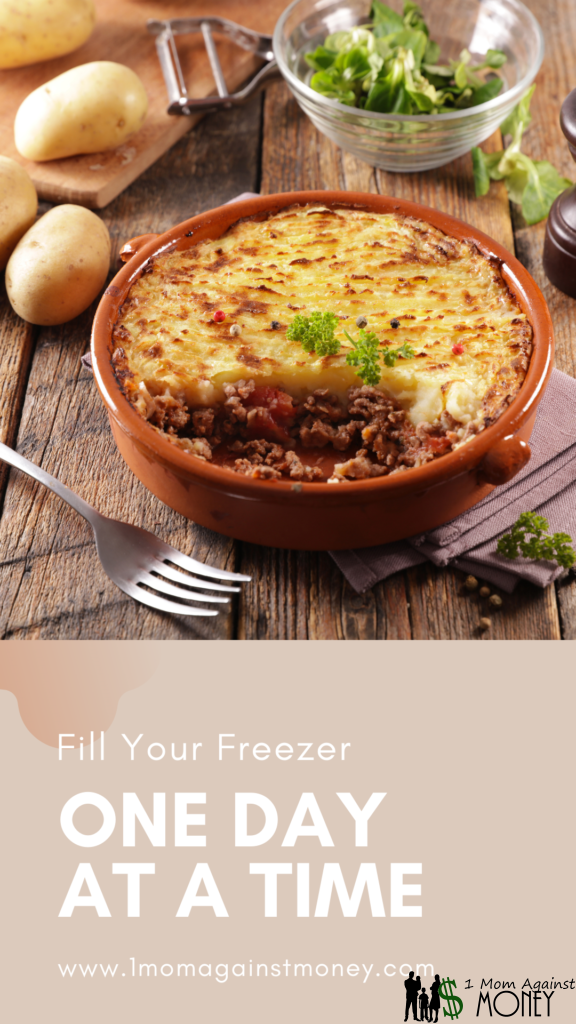 I double this recipe and line 2 9×9 pans with aluminum foil and then spray with cooking spray. To freeze I place in freezer before cooking then when frozen I remove it from the pan and store in a ziploc bag in the freezer.
We don't add veggies to the Shepherd's Pie even though it traditionally has it. Too many years of picky little kid eaters. So I usually steam some green beans or cook some other veggie to have as a side dish.
This series works best when you start from Day 1 since we are using batch cooked items from previous days to make prep easier each day.