Chicken Fajitas are a favorite at our house. I teach piano lessons right after school, and my kids have activities; sports etc. so I am often pressed for time to get dinner ready. I am also allergic to onions and garlic which makes it hard to get any convenience foods. My solution is meals that can be prepped during the day or meals that I prepared previously and froze.
Don't Make It Too Hard
I've shared some of this information in previous posts. I don't like doing a full day of food prep. It's overwhelming, and hard to achieve because you run out of pans or food or space. Instead I double almost every meal I make (or some portion of it) to put in the freezer for future use.
I thought I would share a month's worth of these meals. If you follow along, by the end you will have a fully stocked freezer filled with meals or other items that will make dinners a breeze. And you will have made dinner for your family 🙂
**I'll note how I alter this recipe for anyone else who might have an Alium (onions and garlic) allergy like I do**
Crock Pot Chicken Fajitas
Print
Crock Pot Chicken Fajitas
Ingredients
10

Frozen Chicken Breasts

4

Green Peppers

Sliced

2

Cans

Green Chiles

4

Tbsp.

Olive Oil

3

Tsp.

Paprika

2

Onions, Chopped

Leave out if Alium Allergy

2

Cups

Chicken Broth

2

Tsp.

Salt

2

Tsp.

Cumin

2

Tsp.

Tajin Seasoning

2

Tsp.

Sugar
Instructions
Place chicken in crock pot

Add all other ingredients over top of the chicken.

When done remove chicken and shred. I like using the paddle attachment on my Kitchen Aid. Super fast and easy, but you can also shred it with 2 forks.

Return chicken to the crockpot with the chicken broth mixture.

Serve on warm tortillas with lettuce, sour cream, tomatoes and shredded cheese.
Other Dinner Ideas Using the Fajita Chicken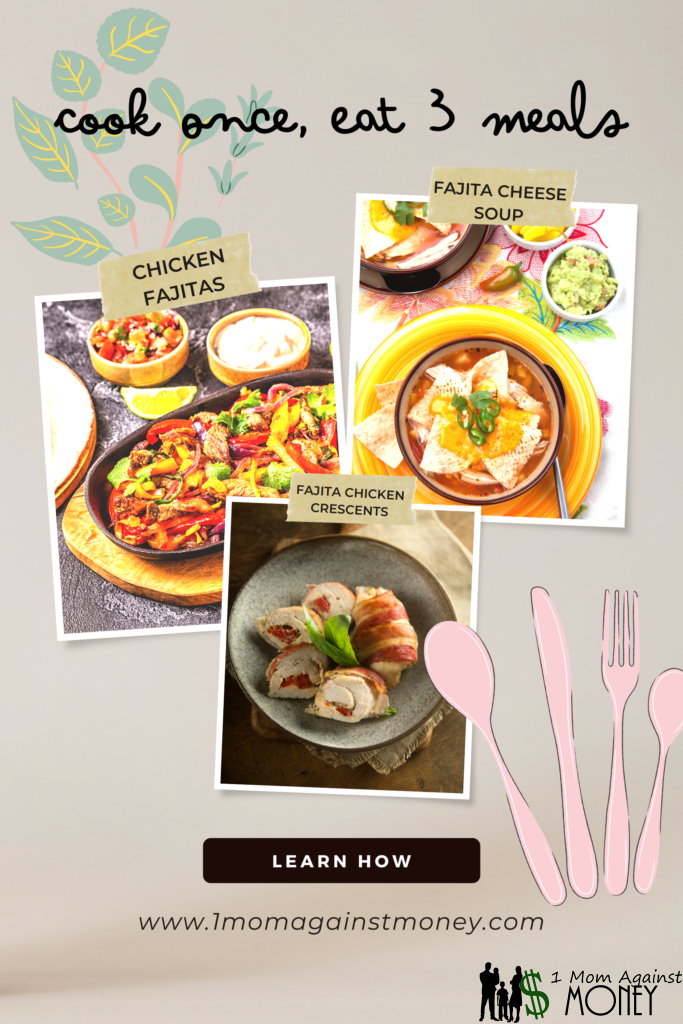 There are 4 adult sized eaters in my family. We usually have about 2/3rds left after having this for dinner. I divide the remaining meat and juices in half write chicken fajita meat on two plastic zipper bags and then lay them flat in my freezer. We usually use one for having fajitas again a few weeks later and the other to make "fajita soup". This is a variation of my Nacho Cheese Soup recipe where we switch out the ground beef for the fajita chicken.
Or we will use it for "Crescent Fajitas" I drain the juice from the chicken and then spoon it into fridge crescent rolls and cook following the can directions.
Congrats 1 night of meal prep just made you 3 meals!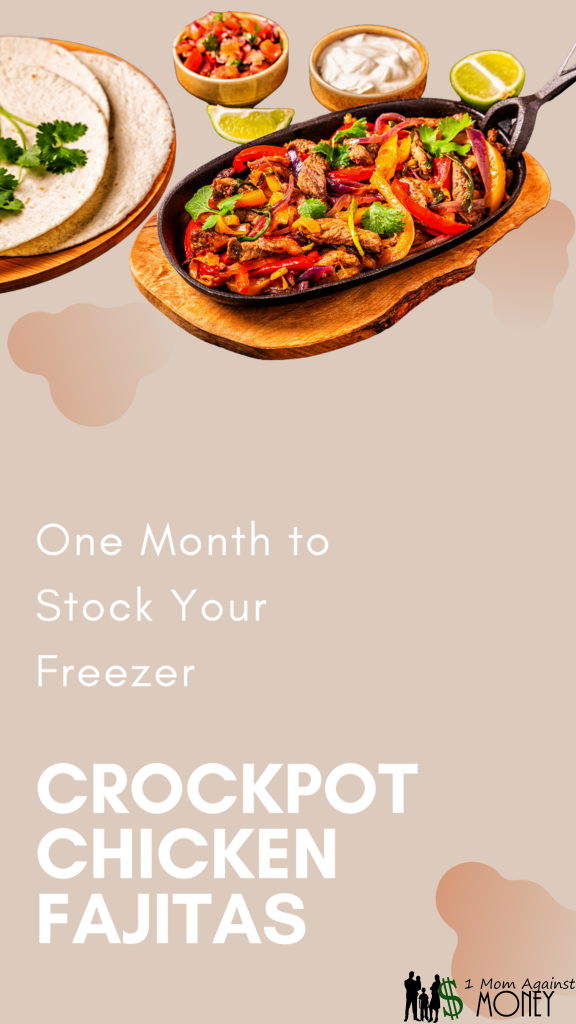 See Day 2: BLTs and Bacon to find out what items you should have on hand for tomorrow.
Other Related Posts
My most popular freezer cooking post: Cut Dinner Prep Time In Half: Batch Cooking Rice Edition