Ever wanted to know more about reselling vintage items on Etsy? Wonder if being a vintage reseller is a good income fit for you? Want to know where to start? What supplies do you need? Any special skills?
I've been selling vintage hard goods on Etsy for over two years now and it has been an integral part of our finances since I started. This post will be a basic overview. I will share more detailed information in future posts and link them here, but hopefully this will give you insight into what is required and if this might be a good revenue stream for you.
What is a vintage reseller?
A vintage reseller is someone who finds older items that have value and sells them to collectors or consumers. Vintage items are usually at least 20 years old.
Where do vintage resellers find items to sell?
I usually find items at garage sales and thrift stores. Interested in some tips on finding good items at Garage Sales? Visit my post about Garage Sales Here. Occasionally, I get lucky and find good deals on Facebook marketplace or other online marketplaces, but the vast majority of my items come from garage sales and thrift stores. Good sources may be different in your location. I know some resellers who rock estate sales, auctions and antique malls for their merchandise.
What Types of Items do I Look For?
There are so many things that have value that can be resold. When I am mentoring someone I usually ask them to think about what they either already know or what items they are drawn to. One friend I taught to resell, likes to quilt. She already knows the patterns and the terminology and she does really well finding vintage quilts to resell. I tend to be drawn to hard goods, specifically art, functional decor (think candlestick holder, planters etc.) and art glass. Spend some time wandering around a thrift store and pay attention to what items you spend time looking at. Those items are a good place to start your reselling journey.
How do I Know if an Item is Worth Reselling?
There are a few ways to figure this out. But to start out, the easiest way is to look it up on eBay. I have the eBay app on my phone. When I find an item that I need to look up, I look to see if there are any marks on it letting me know who made it. Then I use that and any descriptive words I can come up with to find it in eBay.
Examples are super helpful so let's use this item as an example.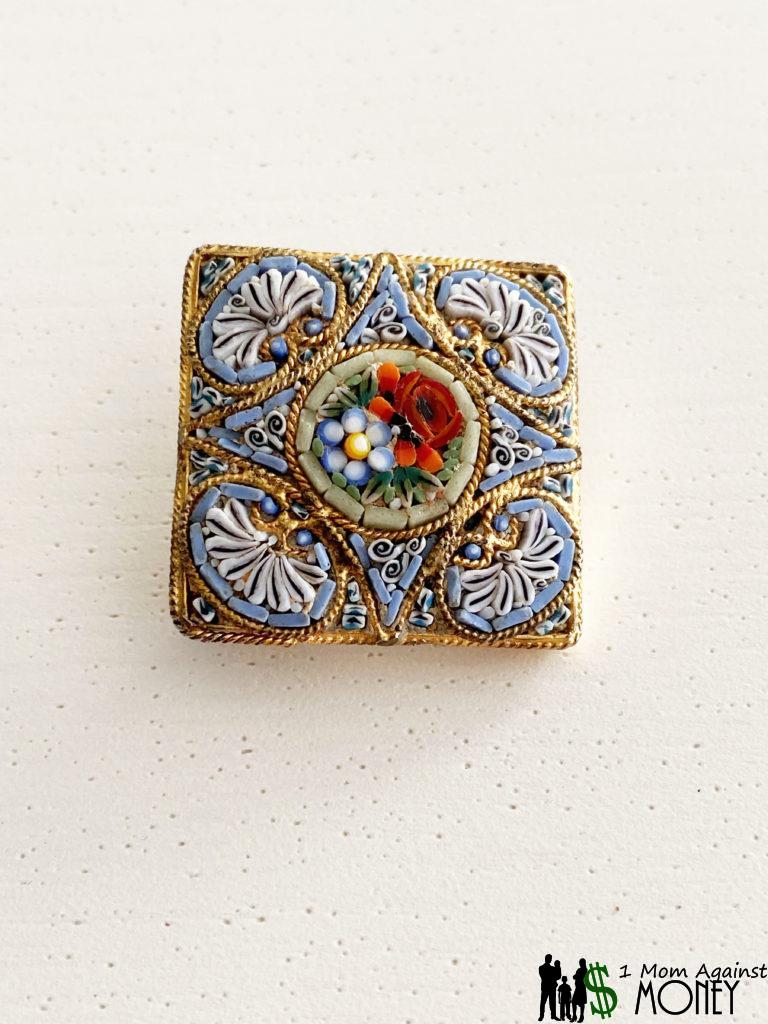 I found this at a garage sale for $2. It is a brooch.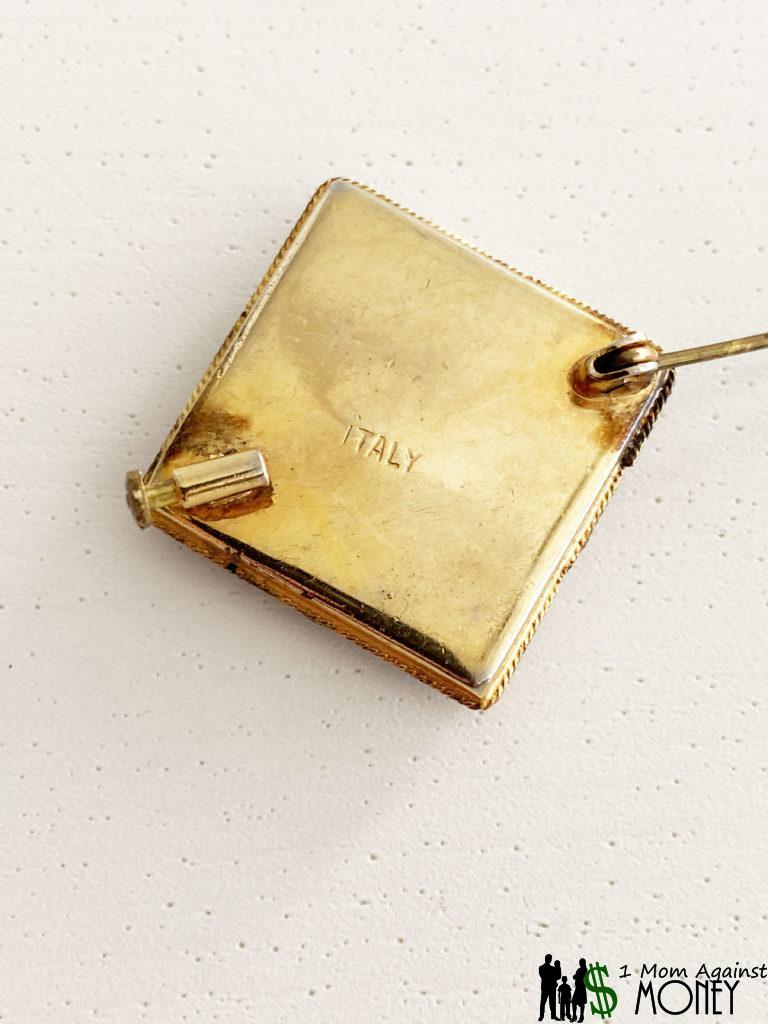 The back is stamped Italy. The clasp was different from what I have seen before and the whole thing was just so unique that I decided to learn more about it.
I did a basic search on eBay using "vintage brooch mosaic Italy".
Right away I found out that these type of brooches are called micro mosaics and there is a wide range of asking prices for them. Watch the short clip below to see what I saw on eBay.
Next I switch over to looking at sold items.
Right away it's pretty easy to see that these brooches have some value and I will definitely make more than my $2 investment.
So I went ahead and bought it. Once I got home I learned more about the brooch. Found out that the clasp allowed me to date it to the 1920s or 1930s. I even found one that looked almost exactly the same that had sold recently on eBay for $34. I did find a small bit of damage, but it still was beautiful and others with damage had sold as well. So I listed and sold it for $25. I disclosed the damage in the description and the buyer asked me a few questions about it, so she was aware.
Profit!
I was able to turn $2 into $25. With a bit of work.
How Much Can Vintage Resellers Earn?
Reselling vintage is a numbers game. Unfortunately vintage items are usually one of a kind items, so when you find a fast seller it's not exactly like you can run out and get 300 of them. But having a one of a kind item does help you, in that your buyers know that if they don't buy it from you they might not ever find it again.
I personally earn between $2,000 and $3,000 per month.
I stock about 250 items (that is what will fit in the space I have allotted for them). I know resellers that make a lot more, but they also spend a lot more time doing it.
How Many Hours Do You Work Reselling?
I average spending about 15-20 hours per week reselling. So it is pretty much a part time job (making way more than most part time jobs). I average making around $40-$50 per hour. There is a learning curve. I have gotten faster. In the beginning I was averaging about $15 per hour, but that was still better than any job I could go out and get and I could still maintain my household and be available when my kids needed me without asking anyone for time off.
What tools do I need?
I use my phone camera and edit the photos right on my phone. I take photos on my kitchen table which is white in front of my white wall. But you can easily replicate this with two pieces of poster board if you don't have a white wall or table. You will need boxes and bubble wrap and packing paper. I started out getting these items at my local Walmart, or re-using boxes from Amazon etc. Other than that there aren't very many other necessary tools. I do the occasional cleaning of a dusty item with water, a washcloth and some dish soap.
How Much Money Do I Need to Start?
Not much! That is one of the huge plus sides to reselling. You buy low and have a huge profit margin. I started with $100. I knew that I did not want to spend any more than that on my little "experiment" of reselling. I was able to get about 35 items and some shipping supplies. Etsy recommends starting a shop with 10 items so 35 was a great start. I have never put in any more money! I reinvest that $100 over and over into getting more items but I have been turning a profit basically since day 1.
As I mentioned before I will share more specifics in later posts, but I hope this gives a general introduction to vintage reselling.
If you are interested in seeing my Etsy shop it is called Hinge Vintage Goods
I also sell on eBay where my shop is Hinge Vintage