Fun Anyone Can Recreate!
Dive into an enchanting world under the sea with The Little Mermaid themed dinner and movie night! Whether you're a parent looking to create cherished memories with your kids or simply a Disney enthusiast, this magical event promises an ocean of fun and adventure.
This is set up to be achieved by anyone with basic cooking skills. You don't have to be a professional to create this dinner! I am not a professional or a perfectionist and I was still able to pull off this set up in a day. And most items are made with things you regularly have around the house or in the kitchen including treats, whimsical decor, and a screening of the beloved animated classic, The Little Mermaid. So, put on your mermaid tails, and get ready for a night under the sea.
Setting The Little Mermaid Dinner Scene
Transform your eating area into an underwater wonderland with an array of sea-inspired decorations. Hang green streamers on the wall to mimic seaweed, and scatter seashells and starfish on tables to bring the beachy feel indoors. Twinkling fairy lights can represent shimmering underwater magic. We had a noise maker with ocean wave sounds. You could also find some soothing ocean sounds online if you don't have one!
Table Decor
Create an ocean-inspired tablescape that will transport your guests to King Triton's kingdom. Most of the table will be filled with theme inspired foods, but we made a few coral out of a red pool noodle (just cut into small circles and stack on top of each other) and a sea urchin out of a pool noodle round and pipe cleaners. I also created some fun food labels based on The Little Mermaid you can download them for free! Then you can print and cut.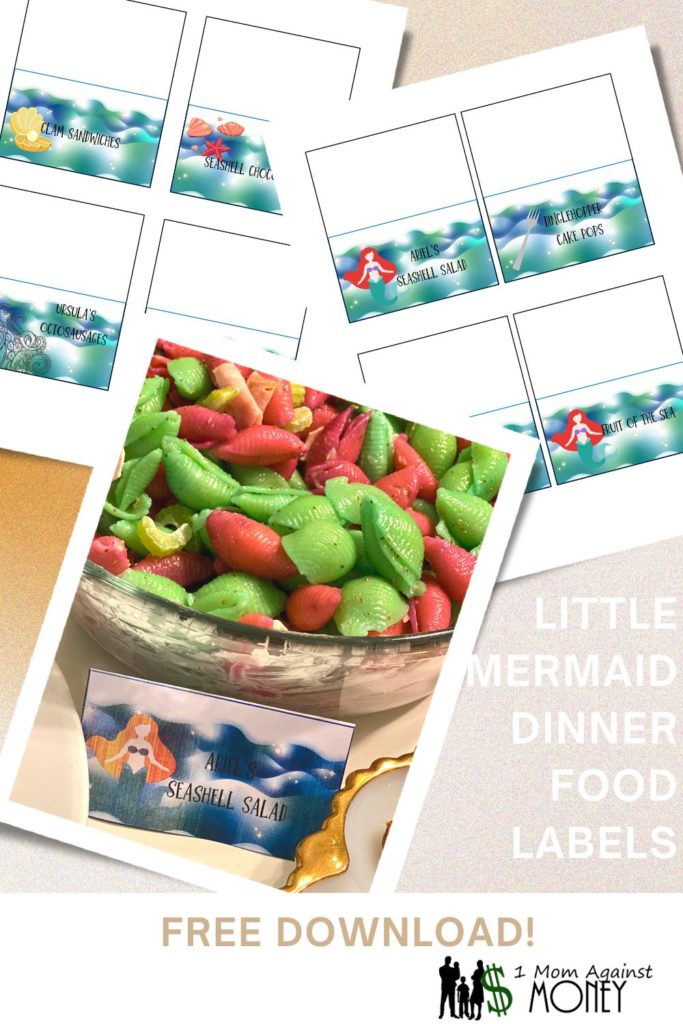 Under-the-Sea Menu
Craft a menu fit for ocean fun, incorporating both savory and sweet delights that pay tribute to Ariel's world both in the ocean and out of it!
Ariel's Seashell Pasta Salad
A refreshing pasta salad featuring seashell-shaped pasta dyed with food coloring to match Ariel's teal and purple color combo. You will need to pans for boiling the two different colors. Follow the directions on your pasta for cooking; once the water is boiling add 3-4 drops of purple food coloring to one pan. Add 3 drops of blue and one drop of green to the other pan. Then add your pasta and cook as directed. Drain and let pasta cool. Colors will darken as the pasta sits. We used a mayonnaise based Pasta Salad recipe (found below), but you could use your favorite pasta salad recipe too!
Print
Pasta Salad
Ingredients
1

lb

pasta

2

eggs, hard boiled

2

Cups

diced ham

1

Cup

chopped celery
Pasta Dressing
1

Cup

Mayonnaise

1/2

tsp

Mustard

1/4

tsp

celery seeds

1/4

tsp

pepper

1

tsp

sugar

1/3

cup

milk

1

tbsp

vinegar
Instructions
Cook pasta as directed on box.

Rinse with cold water until pasta is cool. Drain well.

Stir in ham, celery and dressing. Top with sliced eggs.
Ursula's Octosauges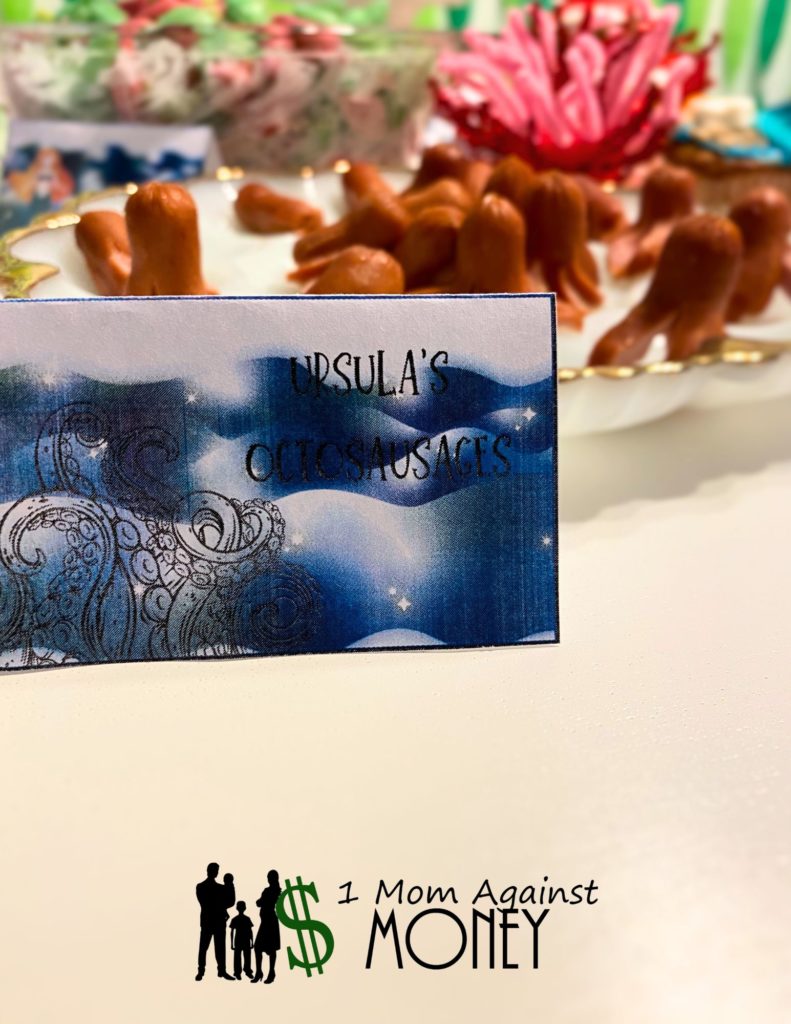 Hotdogs or little smokie sausages sliced to resemble octopus tentacles, served with ketchup and mustard for dipping.
Clam Sandwiches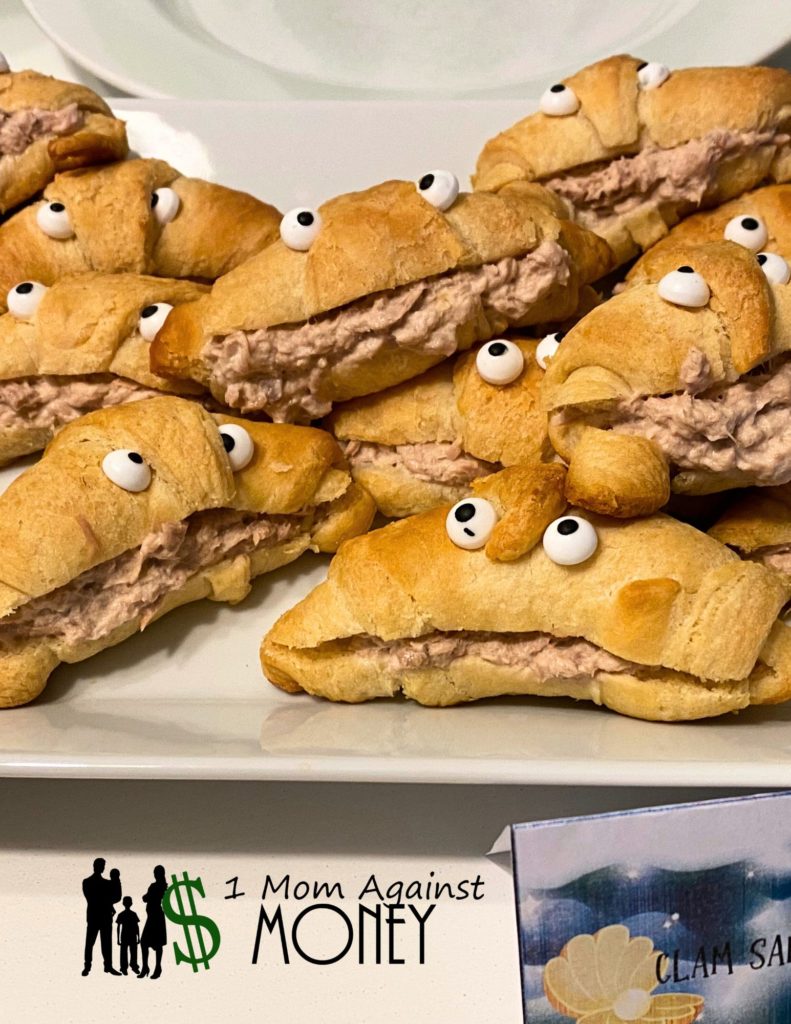 These somewhat goofy looking clams were my family's favorite (probably because they had fun adding on the eyes and making them look as silly as possible. They are essentially upgraded tuna fish sandwiches. Make your favorite version of tuna fish (we add a scoop of mayonnaise, some chopped pickles and celery and a little bit of seasoned salt) then put it in a crescent that has been cut in half. Add some candy eyeballs or raisins for eyes and you have these fun sandwiches that will make everyone smile.
Dinglehopper Cake Pops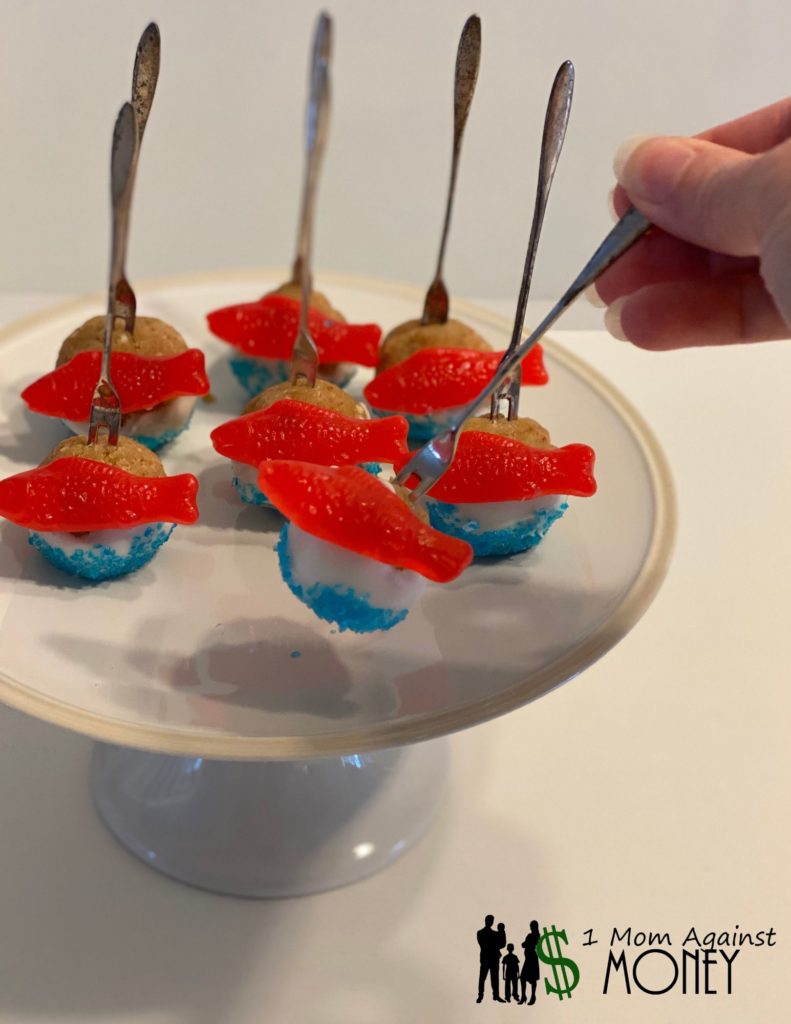 My personal favorite treat from this movie night! Cake pops dipped in white chocolate and blue sprinkles with a Swedish fish for decoration. And the best part, tiny little appetizer forks instead of sticks reminiscent of the iconic dining room scene where Ariel combs her hair with a "dinglehopper" fork.
Mermaid Tail Cupcakes
Vanilla cupcakes with blue frosting, topped with a plastic mermaid tails. You can find the exact ones we used at Amazon. This look could also be achieved with a paper cut out of a mermaid tail taped to a toothpick. I added a little bit of white sanding sugar around the tail to make it look like the water was being disturbed.
I have a free download for printable mermaid tail cupcake toppers that you can get here:
Life Preserver Donuts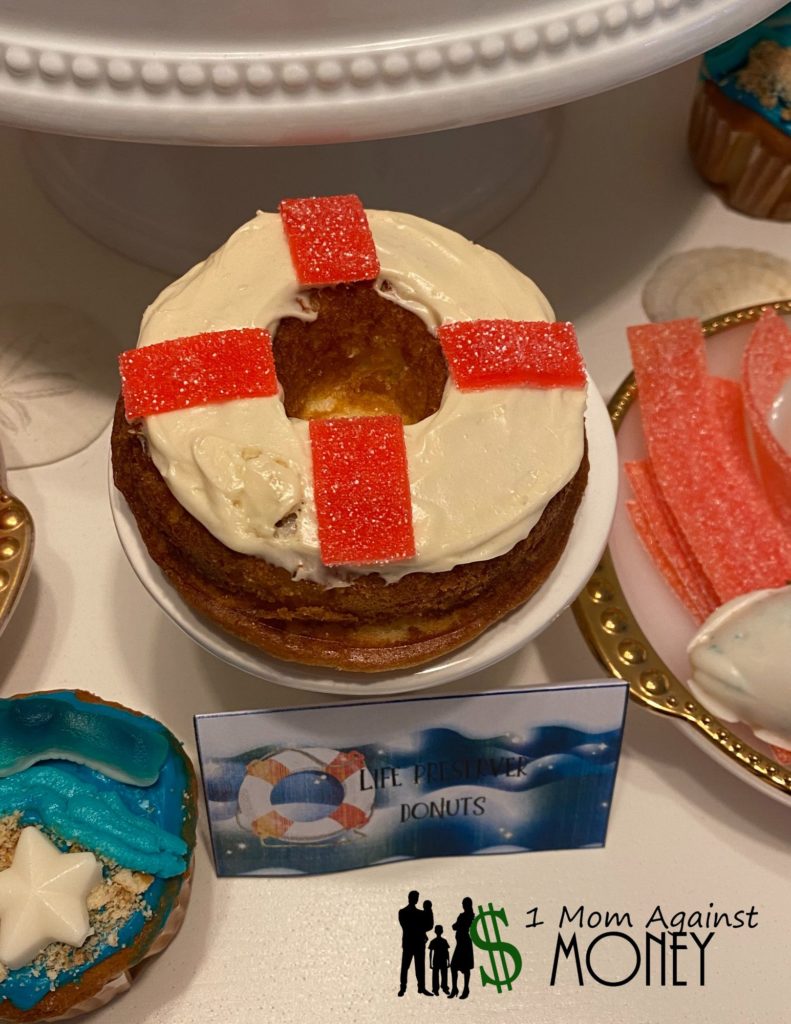 We picked up some plain cake doughnuts added some white frosting and cut some red sour strips to the right width to look like a life preserver. You could also opt for just using red frosting. Or even do white powdered donuts instead!
Fruit of the Sea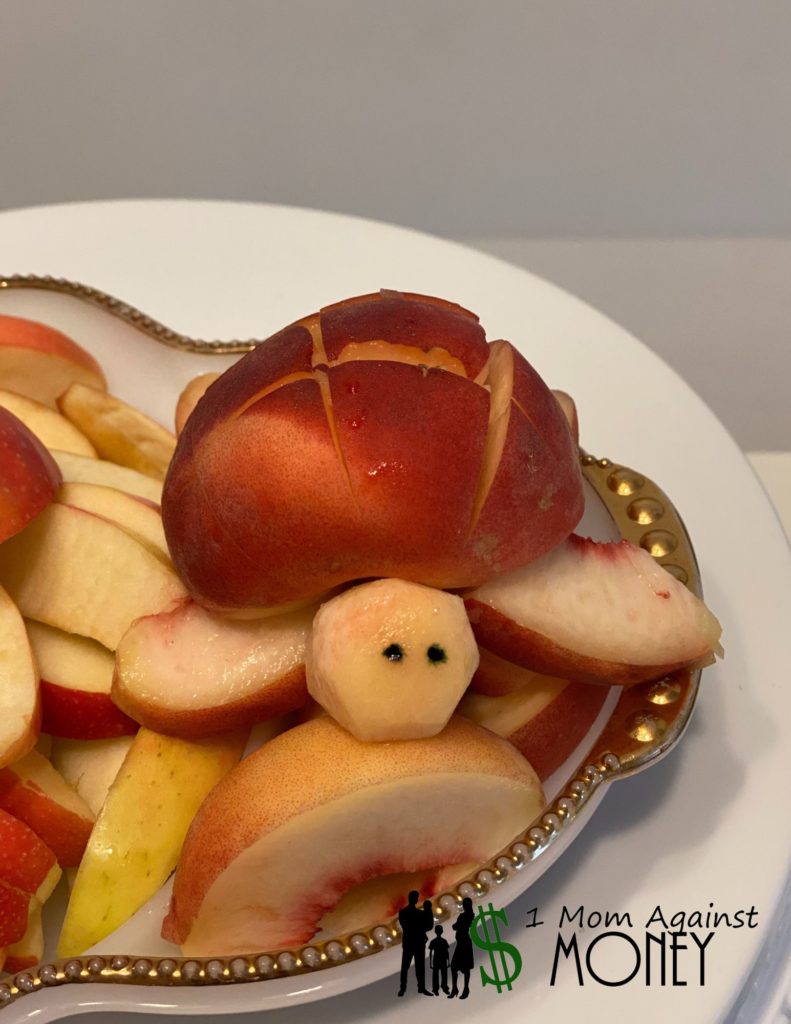 Sliced fruit can even join in the ocean themed fun! We cut an orange to look like a fish, an apple to look like a crab and a peach to look like a turtle. There are tons of tutorials out there for creating more elaborate options too!
Feature Presentation: The Little Mermaid Movie Screening
After enjoying the dinner, gather everyone for the highlight of the evening: a screening of Disney's timeless classic, The Little Mermaid. Share in the magic as Ariel embarks on her quest to become human and find true love. Witness her adventures under the sea and relive iconic moments with beloved characters like Flounder, Sebastian, and Ursula. Hopefully our ideas will bring a touch of mermaid magic to your movie night!