WARNING: SUPER LONG POST!
My 7 year old decided on a pirate party this year. I was so excited when he picked it. There are so many ways to do this theme and on a budget a flexible theme is the best thing possible.
Aiden pretty much wanted to invite every person he's ever met, but we got the list down to 16 kids and their parents and 6 other adults. I recruited some of the adults to help with the party 🙂
We decided on doing the party like a carnival. So we had multiple games set up for the kids to wander and do the games they felt like doing. I love that this cuts down on time that the kids have to spend waiting for a turn at a game.
The budget for the party was $70
There were probably around 30 people there.
Printing decor/game items $20.23 (I use OfficeMax and love their MaxPerks program. I had $10 in rewards that I was able to use on printing the items.)
Table cloths $3
Pin the Pirate Treasure Game $1 (awesome find at the dollar store!)
Necklaces for Treasure box loot bags $2
Candy $6.90
Chips and Crackers $3.96
Loot bags $1.35
Gold Coins for Treasure Box loot bags $1.05
2 wood x's for decor $1
red plates, silverware, and napkins $3
candy flavoring $1 (usually $2 but used a 50% off coupon)
2 pirate hooks $4
Cake mix for cupcakes .88 cents
Chocolate Frosting $1 (clearance score!)
Temporary Tattoos $2
Pirate Hats $8
Pirate Balloons $1
Wooden Dowels .97 cents
Juice $1.68
Bottled Water $2.97
Cupcake baking cups free with coupon from Walmart a few weeks ago
Total: $66.99
Always shop your own house and ask family/friends when looking for decoration items. My brother had the cool treasure chest and the ship that he let me borrow. I had the cake stand. I already had a red tablecloth. I borrowed tables and chairs from family and friends as well.
Decorations:
So doing a party on a budget always takes a bit of planning (at least for me). I set Aiden loose on a pinterest search I ran for pirate parties. It was wonderful. Since it is all pictures it was really easy for him to point to something and say, "I want that". Of course we tweaked things to fit into our party space, budget and time constraints. I designed the printable party items (designing is my "job" through a website I run called Kindred Creations. If you decide you want to get the same party pack you can get to it by clicking the images below.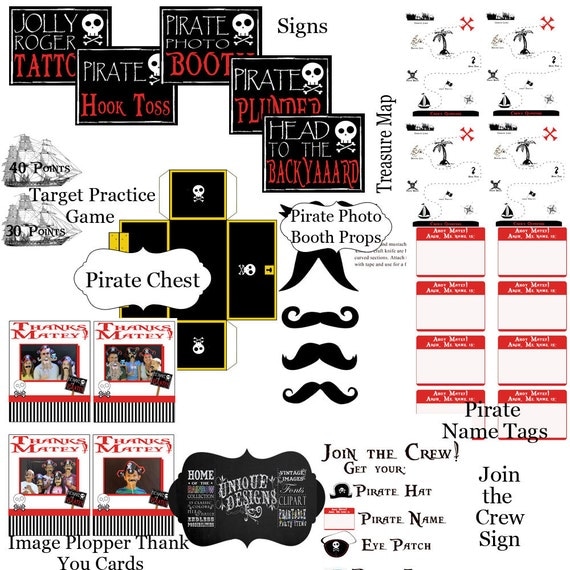 Okay, enough shameless self promotion! Onto the how to.
Sailboat Food Table
I can't take credit for coming up with this, there are tons of different versions all over the internet on making a table look like a sailboat. This is just how my wonderful husband did it. We cut a piece of white cotton material into a triangle. We cut 5 holes along the upper edge for the rope to go through. We wove the rope in and out of those holes. We put down a black plastic tablecloth. The table already had a hole in the center meant for an umbrella. We used a long pvc pipe as the "mast". We cut a small hole in the tablecloth and put the rope through it then tied the rope to one of the table legs. We also tied the rope to the top of the mast. I strung the banner on some curling ribbon and we tied it to the rope at the top of the mast and then taped it to the table with scotch tape. I also taped the birthday banner to the front edge of the table.
Join the Crew Table
This one was easy, black tablecloth, cool ship, and the Join the Crew sign in a frame I already had. Then I spread out the items to get them ready to be pirates. Everyone got a hat, eye patch, pirate name with nametag, and temporary tattoos. The tattoos were a big hit. For them to figure out their pirate name they drew a paper with adjectives (merciless, foul, etc.) from the first treasure chest, and then one from the second treasure chest. The words in the second chest were pirate related items like plank, sea, beard, revenge etc. We wrote those two on their nametag followed by their real first name. My personal favorite was Foul Revenge Sam. (The name game with directions is in the party pack as a printable).
Other Decorations
Out front we put out some balloons and a big red x on the mailbox. We attached the "Beware of Pirates" sign to a wood stake and put it out by the mailbox too. Hopefully it made it easier for partygoers to find us.
The "Dragon" in the Dragon's Lair

Sign on the front door since everyone was outside and we wouldn't be able to hear them knock.
Games
Pin the Treasure to the Map
This game was a wonderful Dollar Store find, but it would be pretty easy to replicate.
Pirate Ship Target Practice
This is essentially a bean bag toss game. All you need is a few containers. You can't see it too well in the photo, but I printed out some ships that said 10, 20 or 30 points and glued the papers to the containers. The kids spent a lot of time at this game.
Hook Toss
I knew how I wanted this game to look but was having a hard time figuring it out. My husband came up with the brilliant idea of using pegboard. The hooks already had a hole at the base so we used some long twist ties and just threaded them through the holes and then through the pedboard and twisted them at the back. Then the kids used rings to see if they could get them on the hook.
Pirate Photo Booth
Kian as Colonel Saunders. What a cutie.
It was a little hard to convince some of the kids to do the photo booth, but the pictures are so funny! The black "backdrop" is just a plastic tablecloth taped to our deck. I used the pictures in the Thank you cards so that the kids got a copy of their silly pirate photos.
Treasure Hunt
The treasure hunt was Aiden's favorite part. I made a simple map and told the kids that they had to follow the dotted line on the map and go to each spot. They ran around the backyard for a good 5 minutes. Until a few finally found the treasure chest and everyone collected their loot bags which had a few chocolate gold coins and a necklace in them.