Chicken Pot Pie is a classic freezer meal option. You can buy them already prepared, if that is the route you want to take great! But making them yourself is not too difficult and it saves a lot of money. There is always a trade off, money or time.
I usually batch cook chicken along with this meal, because the chicken can cook while I chop and prepare the vegetables. Cook 6 pounds of chicken with your preferred method. I usually cook it in a large skillet. Use two forks or a Kitchen Aid Mixer with the paddle attachment to shred the chicken. Set aside 4 cups for the recipe. Bag the remaining chicken in 1 pound amounts in sandwich sized ziplockt bags. You should end up with about 4 bags. Lay flat in freezer for use in later meals.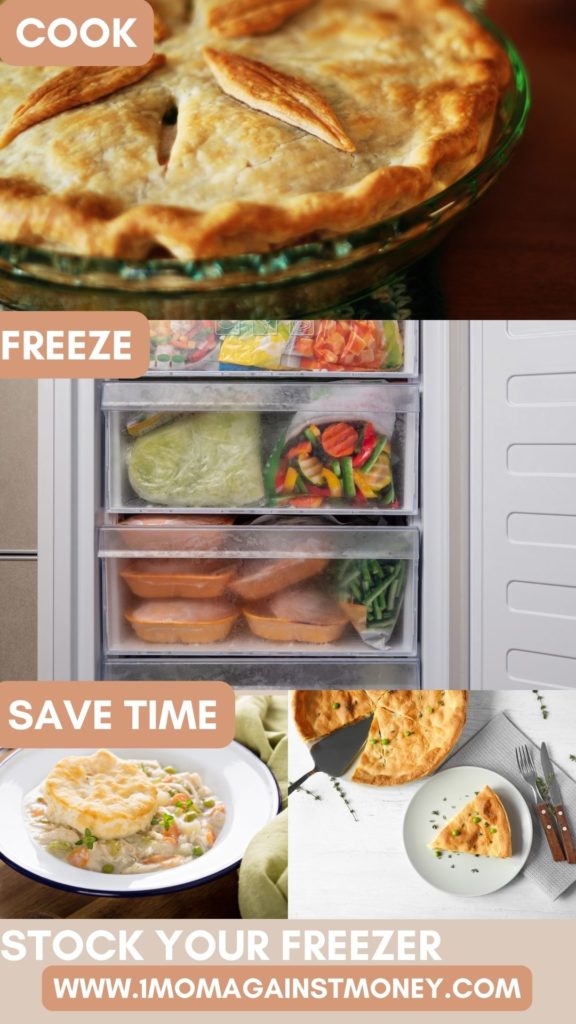 I double this chicken pot pie recipe and make one pie, then freeze the remaining filling in a ziplock bag to use for a later meal. You could put the filling in a pie crust and freeze that way, but I find it always gets battered and broken in my freezer so I prefer to just thaw the filling and add it to a pie crust the day I'm making it. Either way works though! If you opt for just freezing the filling, you can do a variation for your next meal. My kids love the filling topped with biscuits or crescent dough instead of pie crust.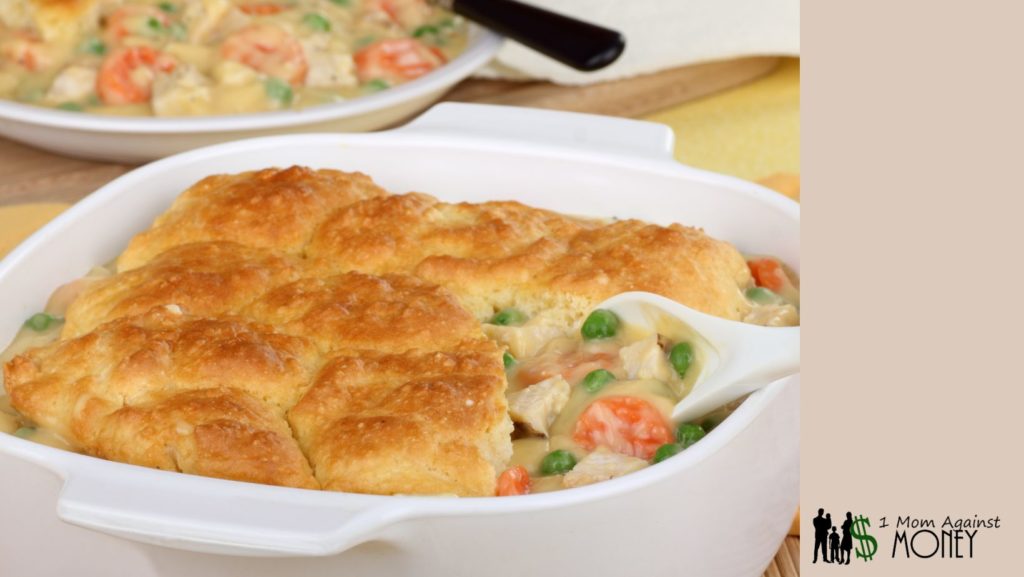 Print
Classic Chicken Pot Pie
Inspired by Paula Dean's Classic Chicken Pot Pie
Ingredients
2

tbsp

butter

1

cup

diced, peeled potatoes

1

cup

chopped green beans

3/4

cup

frozen corn kernels

1/2

cup

chopped carrot

1/2

cup

chopped celery

1 1/4

cup

chicken broth

1

cup

half and half

1/2

cup

flour

1

tbsp

chopped fresh parsley

1 1/2

tsp

salt

1/2

tsp

black pepper

1/2

tsp

thyme

2

cups

shredded cooked chicken

2

refrigerated pie crusts

1

egg

1

tsp

water
Instructions
In a large pan, melt butter over medium heat. Add potatoes, green beans, corn, carrot, onion, and celery; cook until vegetables are just soft, about 7 minutes.

In a bowl whisk together broth, half-and-half, and flour. Add mixture to skillet. Stir in parsley, 1¼ teaspoons salt, pepper, and thyme. Bring to a boil over medium-high heat, stirring frequently. Stir in chicken.

On a lightly floured surface, roll piecrust to a 12-inch circle. Place in pie dish.

Add half of vegetable mixture to pie crust.

Cover with second pie crust. Cut 6 slits in top of dough to release steam. Place pie on a baking sheet.

In a small bowl, whisk together egg and 1 teaspoon water. Brush dough with egg mixture, and sprinkle with remaining ¼ teaspoon salt.

Bake until crust is golden brown and filling is bubbly, about 40 minutes. Let stand for 15 minutes before serving.