This Bacon Potato Casserole is the epitome of batch freezer meal cooking, spend some time chopping some potatoes and chicken add with a few other ingredients in a pan and freeze! Future you will be so glad you did 🙂 The recipe below makes two meals one for today and one for later. I usually double it so I end up with 3 extra meals in my freezer. We will be using bacon that was cooked and frozen on day 2.
Print
Bacon Potato Casserole
Ingredients
4 1/2

Cups

red potatoes

Diced

2 1/2

Cups

Boneless skinless chicken

Diced

2

Cups

Broccoli

Diced

1/2

Cup

Bacon

Cooked and Crumbled

2

Cup

Shredded Cheese (we use Colby Jack)

1/2

tsp

Salt

1/4

tsp

pepper

1

Cup

Heavy Cream

2

tbsp

Butter
Instructions
Put foil on 2 8×8 inch pans. Grease foil.

Divide ingredients in half.

Layer half the potatoes in one pan followed by the chicken, broccoli, bacon then cheese. Repeat in the second pan.

Season with salt and pepper.

Pour heavy cream over the ingredients.

Sprinkle butter pieces over the top.
To Freeze
Make sure the potatoes are covered by the other ingredients (prevents darkening in freezer). Place in freezer to freeze overnight. Remove from pan and place in zipper freezer bag. Label and return to freezer.
To Cook after freezing
Place in pan and cook covered at 350 degrees for 1.5 hours. Remove top foil and cook uncovered for 5-10 more minutes until bubbly and cheese is melted.
To Cook Day of
Cover with foil. Bake at 350 degrees for one hour. Chicken should be cooked through and potatoes tender.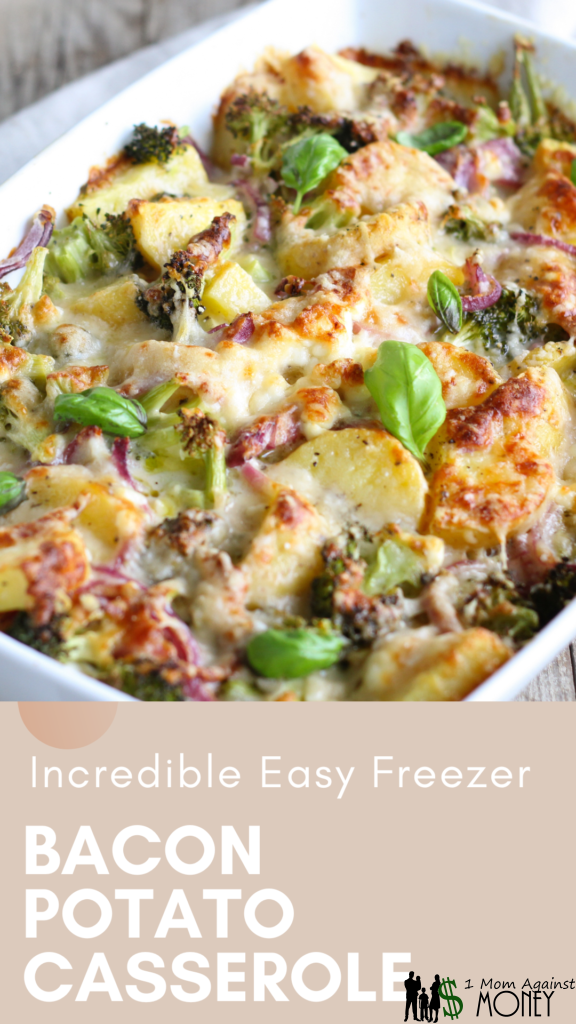 This recipe is an absolute favorite. It was adapted from Kylee Cooks I modified it because we have onion and garlic allergies in our home. That makes this version perfect for others with Allium allergies. You can visit the original recipe if this does not apply to your family.
I'm sharing a month's worth of these freezer stocking meals. If you follow along, by the end you will have a fully stocked freezer filled with meals or other items that will make dinners a breeze. And you will have made dinner for your family!
Start at Day One to make it easier to follow: